Hey there! I'm Tanya Gupta and I am a 2021-22 Adobe Creative Resident! I found it incredibly helpful to reference previously submitted proposals during the drafting of my application for the residency. After having been through several rounds of interviews and being selected as the design resident for Photoshop, I want to share my own proposal deck with you all and share a little bit of insight as to what went into the application process.
After my initial phone screen interview, I was asked to make some revisions to my original project proposal and given a 24-hour window to make those changes. This deck is made up of the revised slides.
Prior to the residency, I was in a very different professional field and wanted to make a career pivot towards producing digital art, so it was important for me to paint a clear picture of what had led me to applying for the program. Initially, I was hesitant to include work experience that didn't directly align with art development. Since I would be quitting my job as a hardware engineer to pursue art full-time, ultimately, I think it was most beneficial for me to include everything in all its glory.
Another challenge I faced was determining what I wanted to achieve during and after the residency. I had gone most of my academic and professional career with certain ideas for my 5-, 10-, and 15- year plans... and that would all turn upside down if I were to pivot my career. One of the pieces of feedback I received for revision was to be more specific and intentional about my new career goals. It was a big leap to allow myself to dream big and fantasize about such milestones as being published in magazines or having my work featured on billboards, but once I crossed over that major hurdle, I felt excitement for what was next for me. In being clear about these goals, I've also made my relationships with my mentors stronger and can be deliberate about the steps I will take to lead me there going forward.
Engaging the community is a huge emphasis for the Adobe Creative Residency program. It is an opportunity to leverage your existing creative community and get exposure to the many others like yourself who are equally excited about creating engaging content and sharing their knowledge.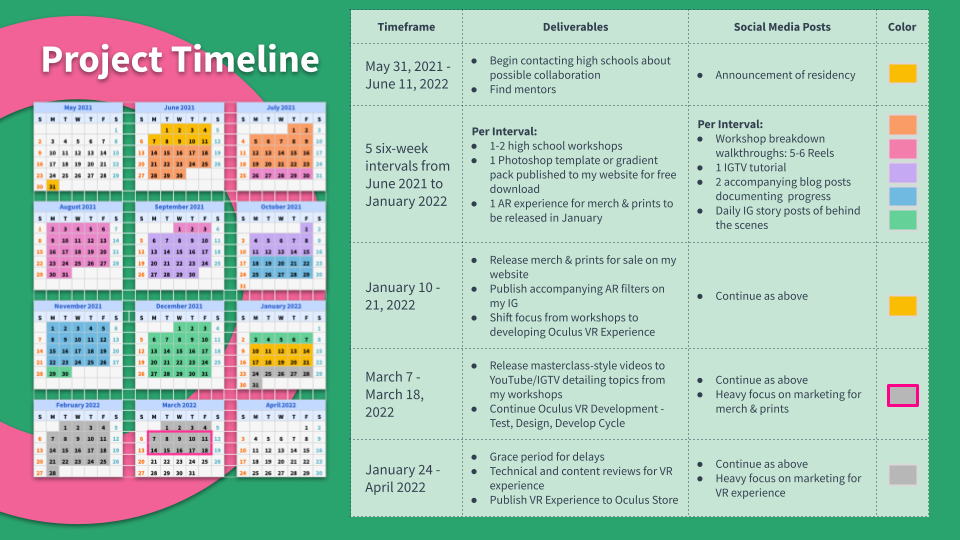 As a digital artist and visual storyteller, it was imperative for me to use my application as a way to get my artistic style across while being clear and concise with my ideas. One may argue that my deck was quite wordy or lengthy, which I'd say is a fair assessment. However, I had already thoroughly flushed out my project ideas many months before applying, so details prevailed over brevity in my case. By no means is my proposal the "correct" or only way to apply for the residency -- it is just one of many, many incredible examples that can be found on Behance or many artists' personal portfolios. I hope that this has provided some level of insight into my whimsical mind, and I wish you all the best of luck in applying for this program in the future. Trust me, you've got this! If you have a project that you wish to pursue during this residency or want to try your hand at a new skill, throw caution to the wind and just do it. You can't win the lottery if you don't buy a ticket! :)

Big thanks to Spesifikdesign for the Google Slides template; you can find the link to their Creative Market store at https://creativemarket.com/Spesifikdesign.